Skip to Content
SPRING & SUMMER

GUEST CHEF SERIES
Akira Back
Michelin Star Chef Akira Back continues to expand his global portfolio with 16 restaurants currently open and an additional 12 scheduled to open within the next few years. Known for his innovative interpretations of Asian fare with American influence, Chef Back's success is fueled by an impressive 20-year culinary background landing numerous awards and international media attention.
Evan Funke
Evan Funke is a culinary storyteller, a custodian of Italian tradition, and a master of the old world techniques of handmade pasta. Funke's singular passion as a pasta maker and chef was solidified in Bologna, under the mentorship of Alessandra Spisni at La Vecchia Scuola Bolognese. His restaurant, Felix, on Abbot Kinney in Venice, has gained iconic status as one of LA's most revered restaurants.
Josiah Citrin
Josiah Citrin is a culinary expert and veteran of Los Angeles's gourmet dining scene, with more than 25 years of experience. He is a two-star Michelin chef and owner of several award-winning dining concepts including Santa Monica's highly-acclaimed Mélisse and Charcoal Venice. Charcoal Venice, a neighborhood restaurant, offers craveable comfort foods featuring locally-sourced proteins and vegetables cooked over live fire via charcoal.
Jon Yao
Inspired by flavors from Los Angeles and Taiwan, Kato has earned glowing accolades from Condé Nast Traveler, LA Times, Michelin Guide, and more. Condé Nast Traveler described Kato as "arguably one of the most exciting restaurants in Los Angeles," while the LA Times named the restaurant number 1 in the 2019 best 101 restaurants list. Most impressively, the Michelin Guide California awarded Chef Jon Yao his first Michelin Star in 2019.
Nancy Silverton
Nancy Silverton's Michelin-starred Osteria Mozza has been beloved by Angelenos for over a decade. Mozza is continually recognized as one of the country's greatest restaurants with accolades ranging from four stars in the Los Angeles Times to the prestigious Outstanding Chef Award by the James Beard Foundation.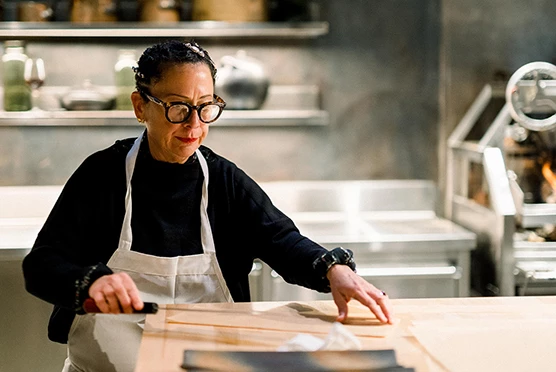 Neal Fraser
Celebrate Independence Day by welcoming back Farmhouse favorite Chef Neal Fraser of Redbird and WhistlePig Rye. Redbird features Modern American cuisine that is refined yet approachable and highlights the multicultural influences of Fraser's native city – Los Angeles. Fraser's menu features seasonal plates ranging from snacks or "kickshaws" to entrees meant to be enjoyed by the whole table. In a few short years, WhistlePig has become a well-known brand, offering the most-awarded rye whiskey in the world.
Frasca Food and Wine
Friuli-Venezia Giulia is an area of immense cultural blending, geographical diversity, and idyllic beauty. This tiny sliver of land is home to one of the most refined food and wine cultures in the world and yet remains off the grid. It also serves as the inspiration for Boulder's Frasca Food and Wine, one of the country's most beloved restaurants by legendary restaurateurs Bobby Stuckey and Lachlan Mackinnon-Patterson. Frasca is a love letter to Friuli and has garnered continual praise from the James Beard Foundation for its commitment to a best-in-class wine and culinary program, along with outstanding service.
Christopher Kostow
The Charter Oak, by Chef Christopher Kostow, invites you to experience "The Legacy Dinner" at The Farmhouse at Ojai Valley Inn. Chef Kostow and Executive Chef Curtis Di Fede will present a family style dinner reflective of The Charter Oak's elemental style, featuring the finest products of the valleys of Napa and Ojai.
As is the case with The Legacy Menu at The Charter Oak, 5% of the proceeds from each dinner at Ojai Valley Inn will go towards The Cameron Thompson Legacy Scholarship, honoring the memory of a member of The Restaurant at Meadowood family. This scholarship was created by Christopher and Martina Kostow, in conjunction with the Culinary Institute of America, and Cameron's mother Tracie, with the goal of improving access to professional kitchens for underserved people of color.
Daisy Ryan
Located in Los Alamos, CA, Bell's is a family-run, French-inspired bistro from Food & Wine "Best New Chef" Daisy Ryan. Housed in the former Bell Street Farms space, this industry darling serves up classic bistro fare with an eclectic, award-winning wine list.
Greg Frey, Jr.
Golden Door Executive Chef Greg Frey Jr. works to achieve the ultimate in spa cuisine: food that is nutritious and delicious. Greg's culinary background has been focused on providing a healthy mindful presentation and building a strong food sourcing base with relationships with local farmers, fisherman, and ranches. The focus is on sustenance rather than deprivation.