Skip to Content
THE FARMHOUSE

Artisans in Residence

Culinary trends come and go, yet we remain humble to food's ability to nourish, delight, celebrate, feel and heal.

We choose to partner only with those who employ responsible farming practices; sustainability is fundamental, not a luxury. The very best artisans, products, farmers, and naturally grown ingredients play a critical role in all realms of our culinary program. Our regular contributors to Farmhouse experiences from classes, demonstrations and other educational opportunities are directed by our incredibly talented team of Artisans. Specializing in specific epicurean skills, they share their passion and individual crafts with our guests. Meet some of our resort artisans who share in our core values and serve as the foundation of both the Farmhouse and the Ojai Valley Inn's culinary offerings.
Chef de Cuisine & Culinary Director of Restaurants, Andrew Foskey
A native of Cincinnati, Ohio, Andrew Foskey found his calling to cuisine when he was in grade school, fascinated by the different techniques utilized by chefs on the Discovery Channel program, "Great Chefs of the World." His interest continued to grow while he worked for his uncle's catering company as a teenager, learning the ins and outs of the culinary world, solidifying his belief that cooking was truly his passion in life. This revelation led him to pursue a degree in Culinary Arts from Johnson & Wales University in Charlotte, North Carolina.
Following graduation, Chef Foskey remained in Charlotte, developing his skills with some of the city's most renowned chefs including Jon Fortes, Tommy Dyrness, and Sam Diminic of the Harper's Restaurant Group. The next five years presented Andrew with many versatile opportunities to serve as Sous Chef and Executive Sous Chef at Hilton Hotels, premier catering companies, and luxury private country clubs in order to expand his knowledge within all aspects of the industry.
Chef Foskey joined the Inn's culinary team in 2015 as Sous Chef and quickly became an indispensable asset to the resort, bringing his exquisite palate and creativity to everything he touched. In November 2018, he was named Chef de Cuisine of Olivella, a role that allowed him to delight guests with his refined, contemporary cuisine that highlights the area's incredible local bounty. In October 2020, Andrew Foskey was appointed Culinary Director of Restaurants, overseeing the development, programming, and operations of all restaurants at the resort.
Resort Chef, Didier Lenders
Didier Lenders has served as the Resort Chef at Ojai Valley Inn since 2008. With over 40 years of culinary experience, and an impressive resume to tout, his knowledge and passion for French-inspired cuisine is inimitable. Didier earned his culinary marks in France, where he graduated from L'Ecole Hotelliere de Paris and held apprenticeships under Dodin Bouffant, Gilbert Le Coze, and Gérard Pangau and trained at La Tour d'Argent and Fauchon.
Throughout his culinary career, Didier has held executive chef positions at The Lodge at Pebble Beach, Pilar, and Meadowood in Napa Valley.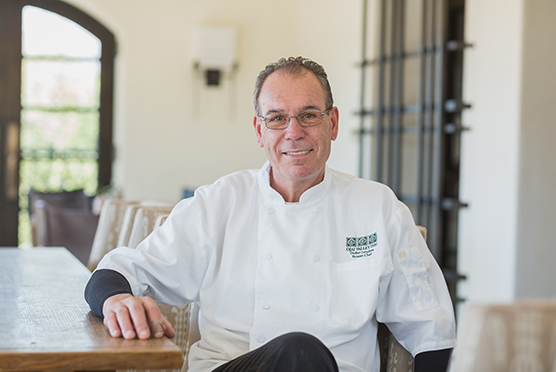 Resort Sous Chef, Andi Strand
A California native, Farmhouse Chef Andi Strand developed a love for food and a passion for cooking at a young age. Inspired by her Grandmother and parents, Chef Andi learned the joy of cooking as they created eclectic meals for their family that not only tasted delicious but took them on a culinary journey. By the time she was 12 years old, she was writing her own cookbooks and pushing the boundaries of her own culinary skills.
"From my Mexican grandmother to my Swedish great grandmother, food was always at the center of our world."
Chef Andi joined the Inn just over a year ago as Farmhouse Chef and has enjoyed great success with her cooking classes, Farmhouse dinners, and supporting various culinary departments. In her more recent role as Resort Sous Chef, she will integrate her signature style and flavors into menu planning and her leadership throughout the resort.
Director of Food & Beverage, Melissa Lamb
Melissa Lamb serves as the Director of Restaurants at Ojai Valley Inn overseeing operations at The Farmhouse. Her passion for the industry became a profession in 2012 when she assumed the role of Auction Director for the Wine & Food Foundation of Texas. From there, her focus turned toward hospitality where she took on various buying positions for both small independent establishments and larger corporate restaurants.
As our resident wine and beverage expert, Melissa is not only responsible for developing our beverage program but also creating engaging wine, beer and spirits tastings and events. The ever-evolving beverage landscape of new producers, new products and new trends keeps Melissa on her toes and fuels her fervor for the business. The Farmhouse represents an opportunity for Melissa to partner with noteworthy personalities of the beverage universe and deliver unique, world-class experiences.
Melissa is a Certified Sommelier through the Court of Master Sommeliers and a Certified Specialist of Wine through the Society of Wine Educators.
Culinary Gardener, Scott Daigre
Scott Daigre is an author, garden designer, educator, marketing consultant, event producer, and public speaker. He spent most of his young life in Louisiana then moved to the west coast to start his professional career.
After various marketing and production positions failed to provide the same energy he felt while in the garden he made a major career shift in 1995 and went to work at the most exciting and trending nursery in Los Angeles. He leapt head-long into the garden industry as he advanced at the nursery, becoming public relations director, garden designer and garden educator.
He's led garden tours around the world, spoken at this country's most influential spring garden shows and designs landscapes throughout Southern California through his company, Powerplant Garden Design.
He also owns and produces Tomatomania, a springtime event he helped build at the nursery that changed his life's direction. Since 1999 the event has been held in 5 states and 25 cities, exciting home gardeners each spring via a series of unique pop up garden events. In an article on a Connecticut Tomatomania! event the New York Times called him "A garden designer-turned the Dale Carnegie of tomatophiles."
Introduced to Ojai during his very first visit to California, he's grateful to have landed in this special place after years in Los Angeles. Scott now lives in Ojai's Upper Valley with his partner Sam, a couple of energetic Australian shepherds and a growing flock of doves and chickens. And of course, a huge garden.
Master Miller, Philip Asquith
Philip Asquith is the current head of the Ojai Olive Oil Company, a third generation family farm, and producer of world class extra virgin olive oils. Ojai Olive Oil crafts it's oils in a traditional and artisanal manner, using hard harvested olives from groves of ancient Mediterranean varietals, and selecting only the very best unfiltered oils to blend and bottle. The company has been the recipient of over 50 first place and blue ribbon honors from all of the most recognized local, national, and international competitions, and Mr. Asquith honored as one of the nation's few Master Millers.
Ojai Olive Oil and the Asquith family farm is located in a beautiful nook of the Ojai Valley's "East-End", and is home to a heritage grove of olive trees that have been producing olive oil since the mid 1850s. The farm is also organic permaculture operation, committed to not just creating the very best quality, but doing it in a way that is responsible, sustainable, and ethical. Working continually to be a positive member of the community, and set a good example for others to learn from is a big part of the family's vision and operations. The farm offers daily tour & tasting experiences to visitors, where people can can learn everything there is to know about olive oil, visit a working farm, and peruse all of the year's oils and related products.